Beaujolais Festival at NIROX
NIROX Sculpture Park, Krugersdorp, South Africa
Details
Beaujolais Nouveau is an "early-to-market wine" that is produced in the vineyards of Beaujolais in the Rhone-Alpes area.
Beaujolais Nouveau is celebrated every year in the third week of November, and for this region's wine producers, this event marks the conclusion of a year's work. These light, fruity reds are usually the first of the year's harvest in France, and are released annually to huge international fanfare, including here in South Africa which has adopted this tradition as a fun and exciting day out.
Join us for a proudly African celebration of the international Beaujolais Nouveau wine, along with a boule tournament under the trees.
Tickets:
Adults: R390 - includes entrance into the sculpture park, food & wine
Children 12 and under: R195 - includes entrance into the park and food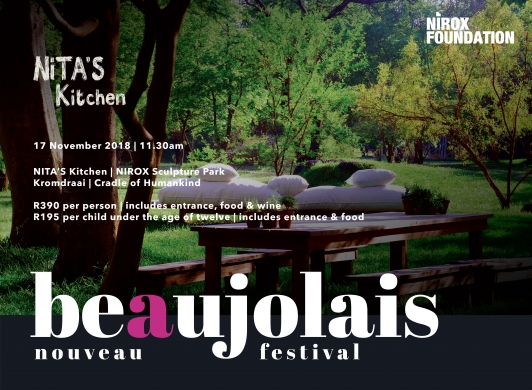 Location
NIROX Sculpture Park
R540, Kromdraai Road
Krugersdorp
South Africa